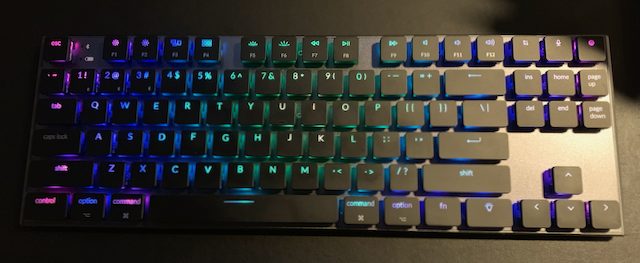 I've been a long time user of whatever Apple's "default" external keyboard is. Most recently the Wireless Magic Keyboard and before that the wired Apple Keyboard with number pad. They've served me well over the years, but over the past year Jason Snell and others have led me down the path of re-discovering mechanical keyboards.
After a brief experiment with the Vortex Race 3, I came across the recently released Keychron K1 and decided to give it a try because of it's unique combination of features:
Bluetooth connectivity
Relatively compact size without number pad
Native mac key layout
Battery, Charging and Connectivity
The battery doesn't last much more than a day when not plugged in, so it's not as convenient as Apple's bluetooth keyboard which lasts a couple weeks on a single charge. It charges via USB-C, however the included cable is USB-A on the other end. Since my laptop and monitor ports are all USB-C, I ended up using my own cable for charging.
Because the battery life isn't very long, I've found myself leaving it plugged in most of the time, which kind of eliminates much of the advantage I thought I was getting by going for a keyboard with bluetooth connectivity.
The keyboard can pair with and toggle between 3 different bluetooth devices.
Size
The K1 comes in two sizes: 87 Key and 104 Key (Number Pad). I went with the 87 key because I don't do a lot of numeric data entry and I like to have the extra horizontal space for my trackpad on the right. The 87 Key isn't as compact as some other mechanical keyboards, but it's compact enough, and I like the separation around the arrow keys that some of the more compact keyboards lack.
This is the perfect size keyboard for me.
RGB Backlights
The K1 comes in single LED or RBG backlit options. I went with the RGB option, which is $10 USD more.
You can toggle between 19 lighting modes via a dedicated keyboard key. The patterns range from solid multi-colors to continuous color fades to solid green. A few of the modes involve the lights coming on in response to key presses, which I found to be distracting in practice.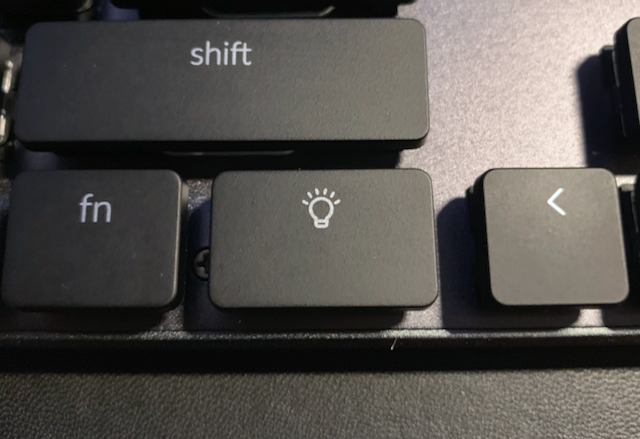 The RGB color options were fun and novel to start, but I quickly got bored with it and realized I just prefer a conservative backlight to help finding keys in darker settings.
Mac Compatibility
You need to choose between Mac and Windows versions when you buy this keyboard. Despite that, the keyboard does have a switch on the backside should you want to toggle OS modes, even if the keycaps won't quite match up.
The K1 comes with some nice touches for mac users. The function key row includes the functions you're used to (volume, screen brightness, play controls). It also includes dedicated keys for "Hey Siri" and taking screen shots (an alternative to Cmd+Shift+4).
The keyboard itself comes in two body color options: Black or Space Grey. I got the Space Grey, which fits in great with recent mac hardware. Its black keys will show oil from your fingers.
Switches & Feel
The K1 only comes in one option for switches: Gateron Blue switches. If you're typing in an environment with other humans, the chirpy click of these switches will not win you many friends. While I prefer the feel of brown switches, the blue is not a deal-breaker for me.
Summary
Overall, the Keychron K1 is a pretty good keyboard, and I plan to keep using it.